Protecting Nature Through Tourism
Wilderness Lodge founders Anne Saunders & Dr Gerry McSweeney are passionate about the environment and nature tourism. Backgrounds in conservation and education led them to establish Wilderness Lodge Lake Moeraki in 1989 followed by Wilderness Lodge Arthur's Pass in 1996.
---
The Wilderness Lodge Lake Moeraki Story
Gerry led a Forest and Bird campaign to protect the West Coast rainforests from logging in the 1980's. Tourism  was championed as a sustainable alternative to logging, one that could support local communities while protecting native forests. This campaign was ultimately successful and led to the creation of the 2.7 million hectare Te Wahipounamu World Heritage Area.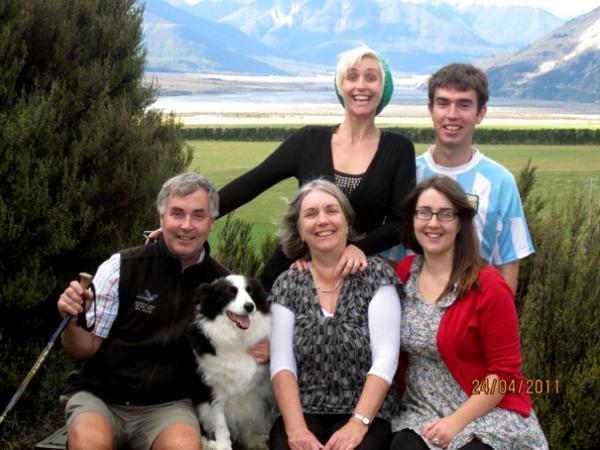 McSweeney Saunders Family
In 1989 Anne and Gerry decided to 'put their money where their mouth was' and moved their family to Lake Moeraki. Here they established one of New Zealand's pioneering nature-tourism businesses while also home-schooling their three young children.
What is now the Wilderness Lodge, was once a construction camp for the Haast Highway. At its heart was the historic 'Red Dog Saloon' an illegal bar for road builders, which achieved national notoriety following a police raid in 1965. Today the 'Red Dog' has been restored and guests to the Lodge can still enjoy a drink at the bar (now legal). 
'Moeraki' translated from Maori means 'a place to rest by day'. It was a food gathering and resting site in pre-European times.
The former roadmen's camp offered an extraordinary natural setting but needed major improvement. Thus began a long term development program that has seen the lodge go from rustic retreat to world-class nature lodge. Anne and Gerry continue to manage Wilderness Lodge Lake Moeraki and still delight in sharing this very special corner of New Zealand with their guests.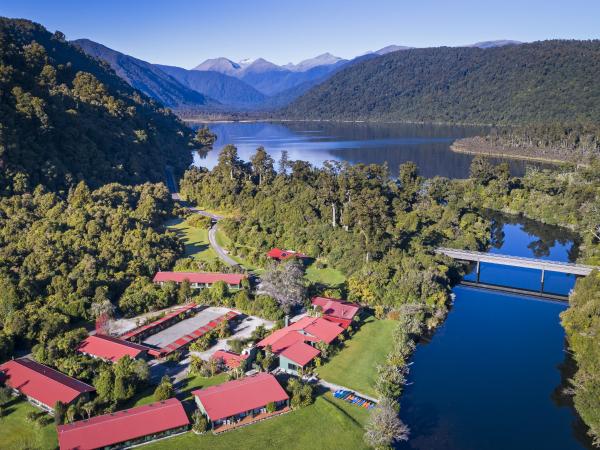 Wilderness Lodge Lake Moeraki
The Arthur's Pass Story
After the success of their first Wilderness Lodge, Anne, Gerry and their family established a second at Arthur's Pass. This continued the Wilderness Lodge's nature focus, while building on the family's 150 year farming history by incorporation a high country sheep farm.
In 1994, the family purchased the historic Cora Lynn Station beside Arthur's Pass National Park. With local architect Gary Hopkinson, and using traditional materials they built a lodge based around the Frank Lloyd Wright philosophy that buildings should be 'of the land, not on the land'.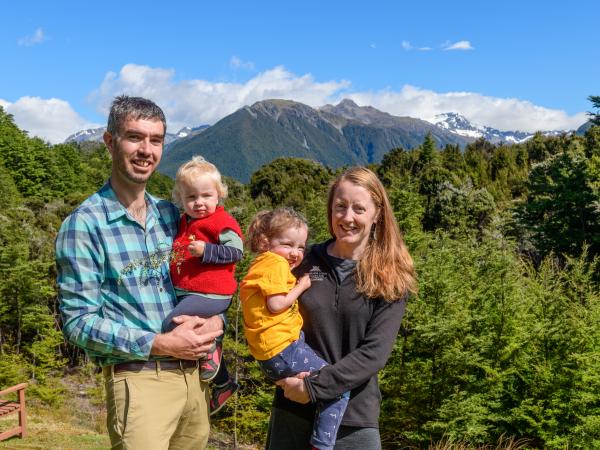 Hannah and Michael McSweeney
A series of reserves were established that saw half of the farm's 6000 acres become nature reserves to protect rare plants and animals. On the half that continues to be farmed a programme of sustainable land improvement has be implemented. This has seen the improvement of soil fertility and a focus on producing superfine merino wool for use in the fashion industry while breeding top quality lamb for the Wilderness Lodge restaurant.
The Wilderness Lodges are a wholly NZ family owned and operated tourism venture working to protect nature
Wilderness Lodge Arthur's Pass is now managed by Anne and Gerry's son and daughter-in-law, Michael and Hannah McSweeney along with their young family. Anne and Gerry return as often as they can.
The document below outlines the detail of some of the Wilderness Lodges' initiatives around nature conservation and eco-tourism.
Wilderness Lodge Conservation and Eco-Tourism Initiatives